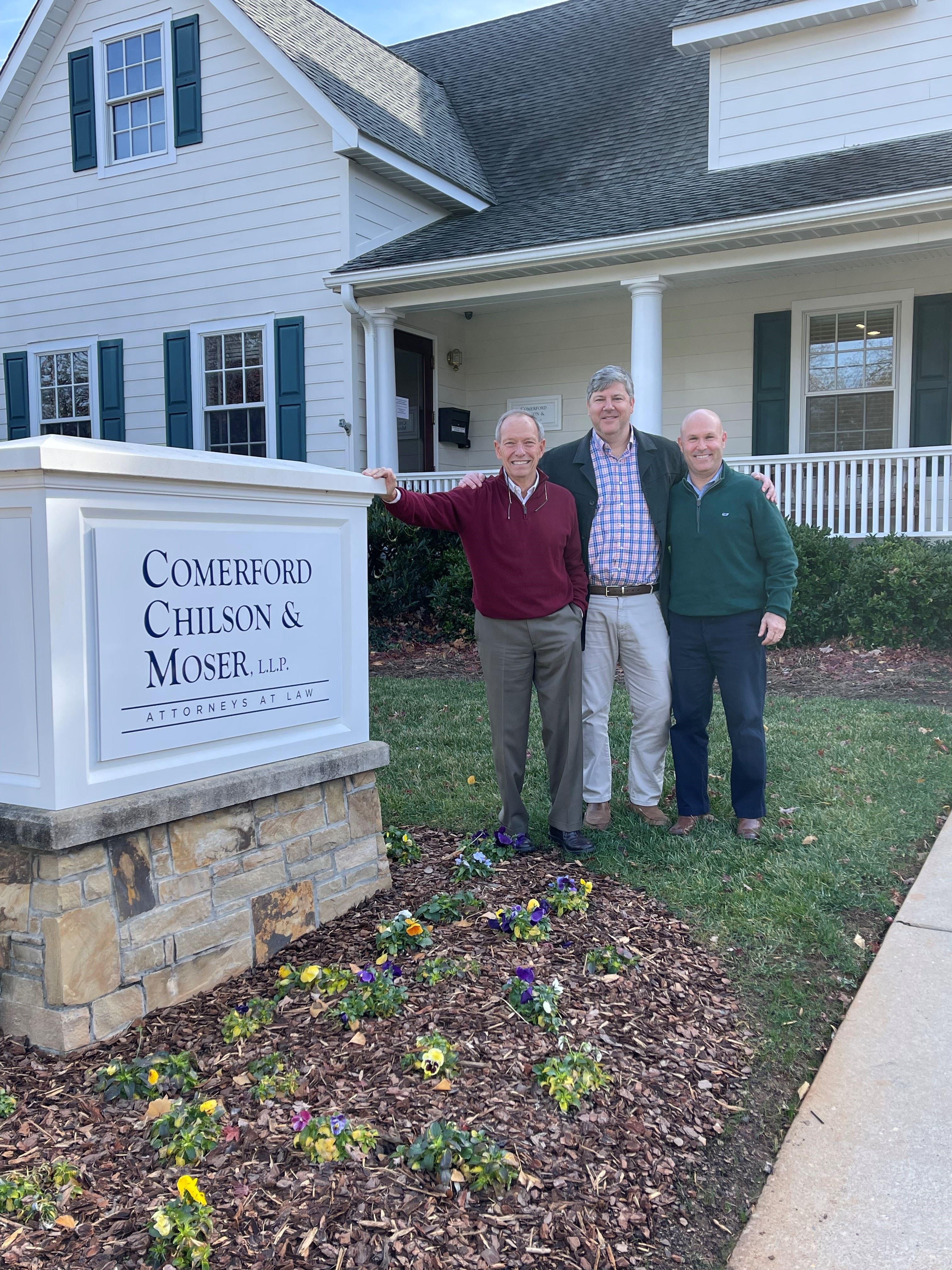 The attorneys at Comerford Chilson & Moser, L.L.P., in Winston-Salem, North Carolina, are committed to providing the highest level of professional representation to those injured by the negligence of others.
To learn more about the professional background and experience of each of our lawyers, click on the respective name below.
We Only Collect If You Do
Our attorneys have helped thousands of individuals who suffered catastrophic injuries or death from motor vehicle accidents, aviation disasters, medical negligence, construction accidents, fires and explosions, and injuries from inadequate security in buildings and retail premises. In order to assure representation of the highest quality, we only accept a limited number of cases. Our goal is to make a difference for people who need help because they have been victimized by careless individuals and corporations.
We only handle cases on a contingency fee basis and are not paid unless we recover damages through settlement or trial. We do not accept cases that we are not willing and able to try to a jury verdict.
We invite you to schedule a free, no-obligation consultation in which we can answer your questions and recommend the best course of action. Call (336) 568-8779 or email us to schedule an appointment.
"The attorneys and staff at Comerford Chilson & Moser are one top-notch organization. While it is unfortunate we met under these circumstances, I am forever grateful to their team and I plan to keep in touch with everyone at this amazing firm."

- Chip L.

"When it was finally complete, they explained what we should expect going forward and continued to check on how we are doing — after more than 10 years. I can't thank them enough for all they did and would highly recommend the firm..."

- Jeff Simon

"Our case was multi-faceted, intricate, and very challenging, so having the best lawyers was top priority. I know I had the best, and I highly recommend The entire firm of Comerford, Chilson & Moser."

- Denise J.

"During our first meeting, he assured me that he would take this anxiety and responsibility from me. Emotionally, I felt a deep sense of relief that stayed with me during the months he was working for me."

- Roberta T.
Contact Our Firm
Your Solution Begins With A Free Consultation
Take the Necessary Steps to Obtain the Best Results

Boutique Law Firm with A Personal Approach to Every Case

Outstanding Reputation in The Legal Community

Nearly a Century of Combined Experience