Truck Accident Attorney in Winston-Salem
Fighting for Victims of Semi-Truck Accidents in North Carolina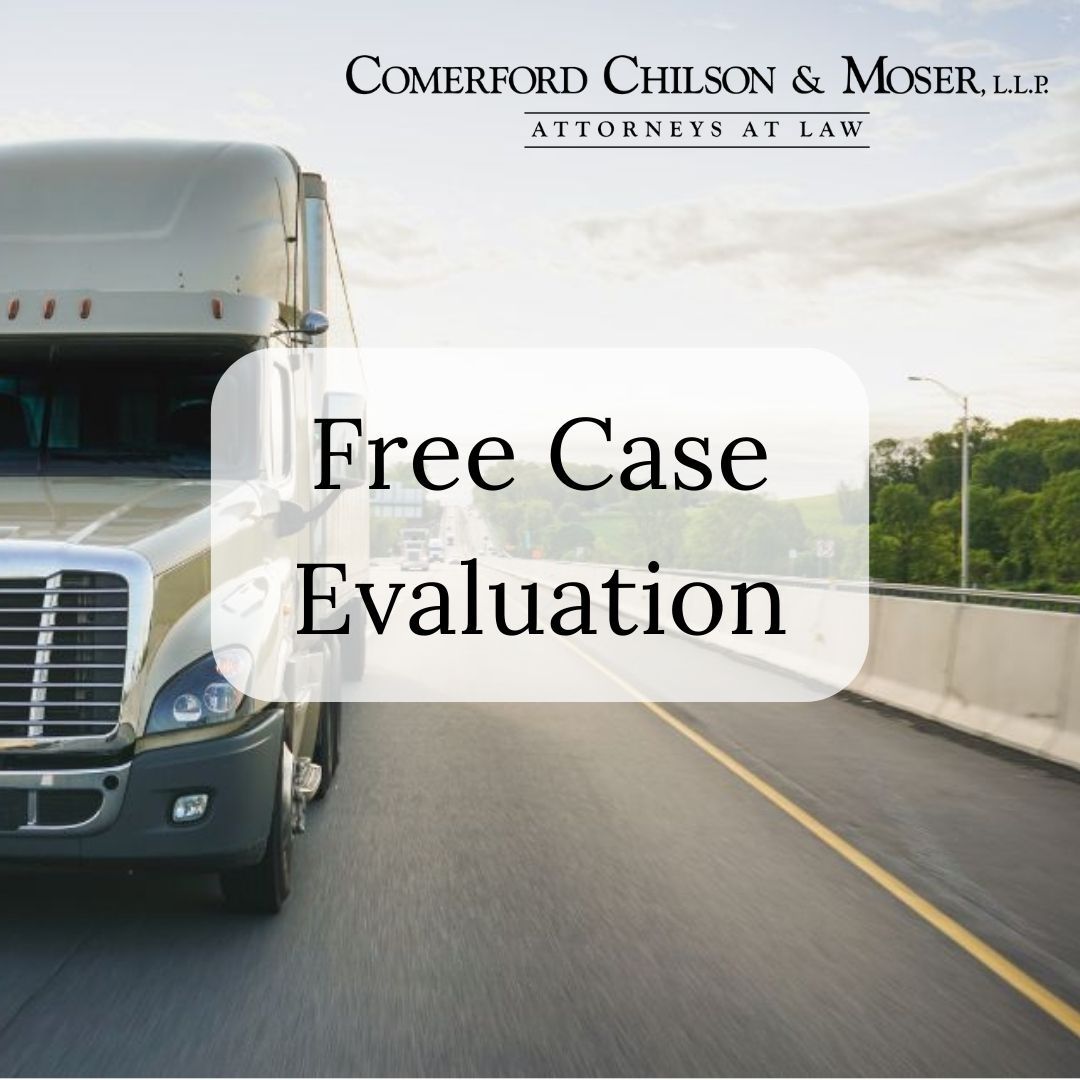 Truck accidents are some of the most devastating crashes that occur on North Carolina roadways. These accidents often lead to serious injuries and death due to the size and weight of commercial vehicles.
If you or a loved one was hurt in a crash, it is important to have a Winston-Salem truck accident lawyer on your side to fight for the compensation you deserve from all parties at fault.
Our team at Comerford Chilson & Moser handles all manner of commercial trucking accidents, including those caused by:
---
Call Comerford Chilson & Moser at (336) 568-8779to schedule a free initial consultation. We have 90+ years of combined experience!
---
Why Hire Comerford Chilson & Moser for your Truck Accident Case?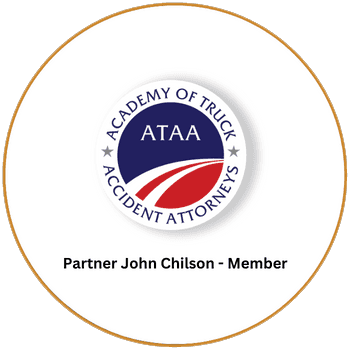 Comerford Chilson & Moser has been in business for over 20 years and has a proven track record of success handling a wide variety of personal injury cases. Our team of experienced Winston-Salem truck accident attorneys has handled every type commercial trucking accident imaginable and we're not afraid to take a case to trial if necessary.
We're also highly selective in the cases we take on, so you can be confident that we'll give your case the individual attention it deserves. We're proud to say that we get a lot of our business through referrals from satisfied clients.
By hiring our firm, you can trust that we will:
Thoroughly investigate the cause of the truck accident
Gather evidence, including accident reports and witness statements
Consult with medical experts to assess the extent of your injuries and the necessary medical treatment
Calculate the full extent of your damages, including medical expenses, lost wages, and pain and suffering
Negotiate with insurance companies to seek a fair settlement
Take your case to trial if necessary to fight for the compensation you deserve
If you are hoping for the best possible outcome for your case, you need our firm on your side. With over 90 years of cumulative experience, we feel we are the obvious choice for those seeking representation after a serious truck accident. We will answer any questions you may have regarding your truck accident case. If your case is taken on, we will begin to review the facts of your case immediately.
How to Get Compensation for Truck Accident Injuries in North Carolina
If you or a loved one has been injured in a truck accident, it is important to seek compensation for the losses you have sustained. Truck accidents can result in devastating injuries that result in long-term medical expenses, lost wages, and pain and suffering.
With help from an experienced Winston-Salem truck accident lawyer at Comerford Chilson & Moser, you can recover compensation for the following types of damages, and more:
Medical expenses related to your injury, including surgery, medication, and long-term care
Lost wages for missed time at work
Damage to your vehicle and other property
Permanent injury and loss of quality of life
Pain and suffering
Our firm's reputation speaks for itself, as we have successfully recovered millions of dollars in verdicts and settlements for our clients. We understand the financial and emotional burdens that truck accident injuries can cause, and we are here to help you seek the compensation you need to move forward with your life.
---
If you or a loved one was injured in an accident with a semi-truck, tractor-trailer or other type of commerical truck, contact our Winston-Salem truck accident lawyers at (336) 568-8779 to schedule a free consultation.
---
We Work with Specialists to Build Strong Truck Accident Cases in NC
Truck accidents can be devastating to families, yet trucking companies often seem to have the advantage in settling any lawsuits because they have experienced lawyers who are adept at minimizing the amount paid to victims. Many trucking companies have insurance representatives respond to an accident scene immediately to begin building a case that will help them limit their liability.
At Comerford Chilson & Moser, L.L.P., our truck accident attorneys are dedicated to fighting for the rights of victims in Winston-Salem and throughout North Carolina. We understand the complexities of truck accident cases and work with specialists to build strong cases on behalf of our clients, including:
Medical experts to validate the injuries you have suffered
Accident reconstructionists and investigators to prove liability
Commercial vehicle safety experts
---
If you've been a victim of a truck driver's negligence, start your claim by contacting our firmtoday.
---
Verdicts
& Settlements
Our Team Approach Adds Value
$9,850,000 Settlement

60-year-old woman suffered a head injury in a rear-end truck accident that caused her death.

$5.5 Million Settlement

Two couples were killed after a tractor-trailer overturned and crossed into their path.

$5.5 Million Settlement

Mail Carrier Struck By Tractor-Trailer Truck

$5 Million Settlement

A brother and sister were killed after the driver of a tractor-trailer rear-ended them at a high-rate of speed.
Common Trucking Accident Injuries
When commercial truck drivers or commercial truck companies are negligent, it can lead to serious or catastrophic injuries to innocent drivers and passengers. These injuries can have a profound effect on the victim's life, causing immense physical pain and limiting their ability to work and engage in activities they once enjoyed.
Injuries that are commonly sustained in trucking accidents include:
Spinal cord injury: The sheer weight of commercial trucks can crush the spine irreversibly, leading to devastating injuries.
Traumatic brain injury: A traumatic brain injury can have a profound effect on the individual's ability to control their body, this can lead to a long and grueling medical journey and permanent disabilities.
Broken bones: Bones are easily broken by a commercial truck that weighs over a ton. This can lead to many fractures and multiple surgeries.
Burns: Among the most devastating injuries that can result from a truck accident are burns. Burns incurred in a truck accident may be the result of the impact itself or when the vehicle catches on fire, and these injuries often require extensive medical intervention, ongoing surgeries, and severe scarring.
Disfiguring injuries: This type of injury from a truck accident can leave another driver or passenger permanently disfigured and, even with the most advanced reconstructive surgeries, these injuries are often impossible to fully resolve.
Severe lacerations: This type of injury from a truck accident may occur when the driver or passenger is thrown out of the vehicle, and these lacerations can lead to serious blood loss and nerve damage.
Internal organ damage: This type of injury from a truck accident can occur when the force of the impact crushes the body, and this type of damage often requires immediate emergency medical attention.
Continue Reading
Read Less
Our Reputation Speaks For Itself
"During our first meeting, he assured me that he would take this anxiety and responsibility from me. Emotionally, I felt a deep sense of relief that stayed with me during the months he was working for me."
- Roberta T.
Causes of Truck Accidents in Winston-Salem
Negligent Driving Behavors
The Federal Motor Carrier Safety Administration (FMCSA) reported that dangerous truck driver behaviors tend to fall within one of the following four categories: decision-making, recognition, non-performance, and performance.
1. Decision-Making
The driver's decision-making was the basis for 38% of driver-related accidents, with the top problems being:
Over-the-counter drug use.
Substance use.
Traveling too fast for conditions.
Following too close.
Feeling under work pressure from the carrier.
2. Recognition
The driver's inability to recognize potential hazards was the basis for 28% of driver-related accidents, with the top problems being:
Inattention.
Distractions, internal and external.
Inadequate surveillance.
Being unfamiliar with roadways.
3. Non-Performance
The driver was unconscious or unable to perform their duties for 12% of driver-related accidents, with the top problems being:
Fatigue.
A sudden medical event.
4. Performance
The driver's performance was the basis for 9% of driver-related accidents, with the top problems being:
Making an illegal maneuver.
Panicking or overcompensating in response to a traffic event or hazard.
Hazardous Vehicle Problems
Common hazardous vehicle problems are as follows:
Brake Problems.
Tire problems.
Cargo shift.
Overpacked trucks.
Underpacked trucks.
Hazardous Environments
Common hazardous environments are as follows:
Inclement weather conditions.
Roadway problems.
What important steps should be taken immediately following a truck accident?

The first thing that should be done, of course, is to get medical attention for anyone who is seriously injured. Beyond that, here are some key steps that can help you in a personal injury lawsuit:

Report the accident to your insurance company
Provide as many details as possible to police and file an accident report
Take photos of the accident scene to record important details, including damage to vehicles and other property
Do not speak with any other insurance company representatives or sign any reports
Do not make any statements of who was at fault or the extent of your injuries
Contact an experienced personal injury attorney
See a doctor as soon as possible following an accident

Who can I collect from in a truck accident personal injury lawsuit?

Personal injury lawsuits regarding semi truck accidents can become complex rather quickly. Often, it is possible to name more than one party in a lawsuit. Our experienced truck accident lawyers help victims maximize the amount they recover by naming all responsible parties. This may include:

The driver of the truck
The owner of the truck company
The employer of the driver, which may be different than the truck owner
The owner of the tractor-trailer, which can be different than the owner of the truck itself
The manufacturer of the truck, tractor-trailer or any parts of the truck or cab
A third-party maintenance company
A municipality that contributed to the accident by creating dangerous road conditions or not properly marking dangerous conditions

What compensation can be recovered following a truck accident?

An injured party may seek compensation for immediate and future medical expenses, lost wages, lost future earnings, pain and suffering, loss of quality of life, and other damages. In 

wrongful death lawsuits

, a decedent's family may seek lost economic contributions, loss of care and companionship, funeral expenses, and other damages.

What laws apply to truck drivers that may play a role in my case?

Federal, state and local laws that apply to commercial trucks and their drivers can play an important role in a personal injury lawsuit. The Federal Motor Carrier Safety Administration (FMCSA) regulates the commercial trucking industry. Laws apply to:

Federal regulations also require commercial trucks to carry certain levels of insurance coverage. This protects victims of truck accidents from truck owners or companies stating that they do not have the financial resources to pay damages.

Often, trucking companies will take elaborate steps to place their assets under a different entity in order to avoid paying damages in these cases. We work with forensic accountants and other specialists who are skilled at uncovering a company's true assets in order to clear the way for our clients to collect the full amount they are owed.
Contact Our Firm
YOUR SOLUTION BEGINS WITH A FREE CONSULTATION